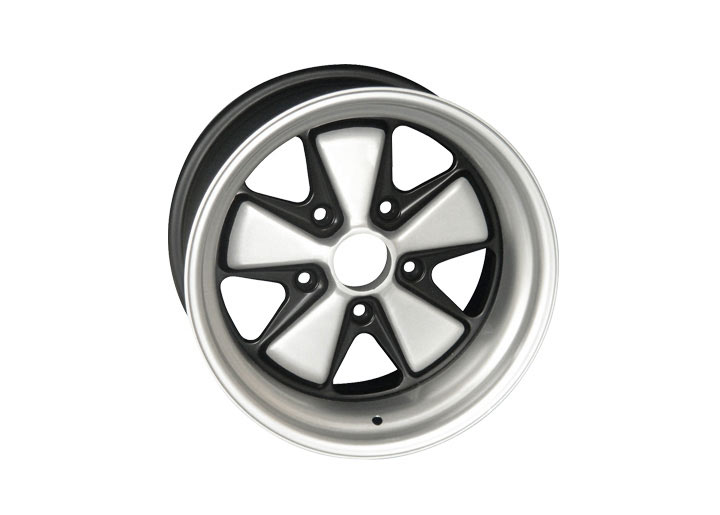 BRAID FUCHS REPRODUCTION WHEEL 15 X 5 RSR FINISH (SOLD EACH)
RBRAID155RSR - Replacement/Accessory
Description
New to the usa from spain, braid wheels offer a full range of competition wheels for tarmac rally, gravel rally, snow, track, rallycross, hill climbing, rally-raid, kart and classic cars. Monoblock wheels are specifically designed for competition, are cast from lightweight aluminium and heat treated for maximum strength. Complete with steel bolt inserts to prevent wear and hub-centric to your specific model so no hub rings are required. We are pleased and excited to make these excellent wheels available for the first time in the usa.

Beautiful rsr finish

15 x 5

+23 offset

12.75 pounds

Super strong and durable. this testimonial from a rally driver proves just how durable braid wheels are!

i unfortunately found this out the hard way during stpr rally. We went wide in a corner striking a dirt embankment which sent us into a spin. It was during the spin that we then struck a tree stump resulting in a rollover. This completely destroyed the control arm, broke the sway bar, snapped the tie rod in half and left half the tree stuck in the rim. The best part of this is the tire never went flat and the rim didn't even crack. Cline rally sport will be buying nothing but braid wheels from now on.

As always, we recommend verifying fitment, and test fitting before installing tires. wheels are special order only.

25 dollar shipping charges apply per wheel.
Fits (Click to view section):
912 1965-69
914 1970-76
924 1980-85
924 1986-88
944 1982-85
944 1985-88
944 1989-91
911 1965-69
911 1970-73
911 1974-77
930 1975-77
911 1978-83
911 1984-86
911 1987-89
Notes:
Models with 5-Lug Wheels